Crossway Scaffolding is the UK's largest stockholders of scaffolding equipment which uses the "Van Thiel Concept".
This encompasses the whole process of the loading and unloading of materials, and the speed of erection, easy adaption and dismantling. There is no requirement for servicing, as the Tubelok connectors and wedge fittings are service-free.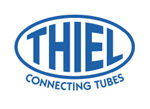 Health and Safety Advantages
With joints crimped to the tube lengths there is no chance of a joint coupler falling off and causing injury.
Thiel-Lock or redilock transoms conform to TG20:13 and have been designed so that a scaffold no longer requires cross-bracing, ensuring all working platforms are completely clear.
No protruding tubes allowing sheeting, netting and advertising banners to be more easily attached.
Van Thiel Extendable-transoms, in conjunction with hop-up brackets, can extend and adapt to the building's specifications.
System is ideal for any type of frame building - concrete, steel or timber - where the scaffolding can be erected in advance.
Adaptions can be made easily for the building fabric - whether cladding or masonry.
Materials are lighter weight and easier to assemble.
With tubelock and shorter lengths there is less strain on the scaffolder.